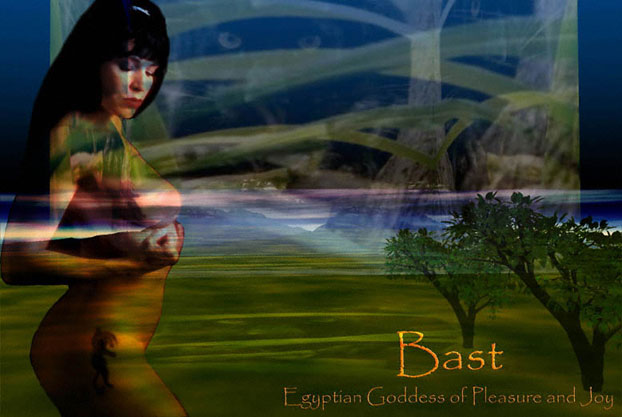 Copyright © 2005 Josephine Maisonet. All Rights reserved
BAST
Limited Edition
A 22" x 17" poster sized print of

BAST


Signed, framed and matted to 28" x 22"
Free shipping within the continental United States.
Price:
$195.00
---
Bast is an ancient Egyptian goddess who ruled pleasure, dancing, music, joy and was the protector of women, life, family and the domestic cat. Cats are sacred to her and she is often depicted as a cat-headed woman or as a full cat (named Bastet when she is in full cat form). In ancient Egypt cats were considered as symbolic representations of animal passion.
Devotees of Bast revered her in celebration at the city of Bubastis (house of Bast) the center of her worship, with lovely flute melodies as they debarked from processions of flower-laden barges for a worship service held witha vast trade fair, and orgiastic ceremonies. Her festivals were licentious and enormously popular.
Bast was the daugher of Ra the sun-god and acted as his instrument of vengeance, and ferocity causing her to be orginally a lion-goddess. Later during the late period of Egyptian civilization, she was still associated with the sun god but with a much tamer persona. Bast had become a cat, a peacefull pleasure-loving animal that enjoys being stroked and sometimes taking on the war-like aspect of a lioness.


---
-
-
-
-
-
-
-
-
-
-
-
-
-
-
---