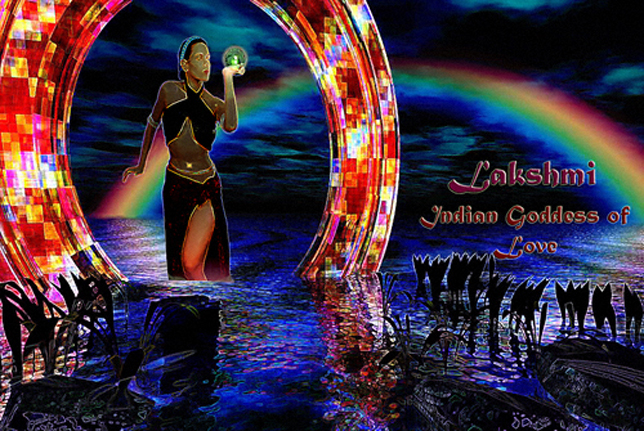 Copyright © 2004 Joséphine Maisonet. All Rights reserved
LASKSHMI
Limited Edition
A 17" x 22" poster sized print of

Lakshmi


Signed, framed and matted to 22" x 28".
Free Shipping within the continental United States.

Price:
$195
---
Play to hear narration of Lakshmi
Lakshmi, the Indian Goddess of love, fertility, and abundance. She symbolizes not only the wealth of the earth but of the soul as well, a magnificent symbol of the delights of spiritual prosperity. She embodies all forms of wealth, in jewels, coins, rare shells, in every child born to welcoming parents, and particularly cows.
The reverential attitude for cows in Hindu India is based on the worship of Lakshmi, who is called the Shakti of life-preserving Vishnu. In Hindu philosophy, the male godhead is defined as being passive and abstract, distant and powerless, unless he is activated by the goddess. Vishnu can only maintain his power to maintain and enrich life only when Lakshmi inspires it. Therefore it is important to bestow reverence to those things that embody wealth such as cows. In some parts of India cows are called lakshmi named after the goddess.
Other myths claim that Lakshmi existed from time immortal, floating before creation on a lotus. For this reason she is often called Padma ("lotus goddess") whose symbol became the sign for spiritual enlightenment throughout Asia. Other myths tell the story of Lakshmi springing up from the ocean when it was churned by the gods, emerging like a jewel in all her beauty and power, covered with necklaces, pearls and bracelets, crowned and jeweled, her body fat and golden.
Poetry by S. David
---
-
-
-
-
-
-
-
-
-
-
-
-
-
-
---